MPO connector
High-speed migration trends in data centers
Today, fiber is used for most network links in enterprise data centers. Parallel fiber (MPO-based) connectivity is gaining popularity as it enables pre-terminated systems that can be deployed quickly and efficiently. More recently, standards and equipment vendors have begun deploying multi-fiber interfaces to increase throughput and density. This trend can be seen in a variety of applications. For example, Fibre Channel applications for storage area networks were primarily duplex, but as they migrated to Fibre Channel beyond 32G, new parallel link options were introduced.
Fiber Cabling Challenges
Multimode fiber remains the primary medium of choice for most enterprise-class data centers—its lower electronics cost compared to singlemode fiber makes it a more cost-effective choice, and the advantages of short wavelength division multiplexing (SWDM4) Adoption and the introduction of new fiber type OM5 are also able to expand the adoption of multimode fiber by supporting longer link lengths.
One of the ways to achieve higher link speeds is to use multiple channels, just like 40GBASESR4. Another method is to create channels by multiplexing multiple wavelengths on a pair of fibers. As mentioned above, the ability to multiplex multiple modes extends its feasibility. Figure 1 shows two examples of SWDM4 technology, 40G-SWDM4 and 100G-SWDM4. Using four different wavelengths, these transceivers provide four 25GbE channels over a pair of duplex multimode fibers.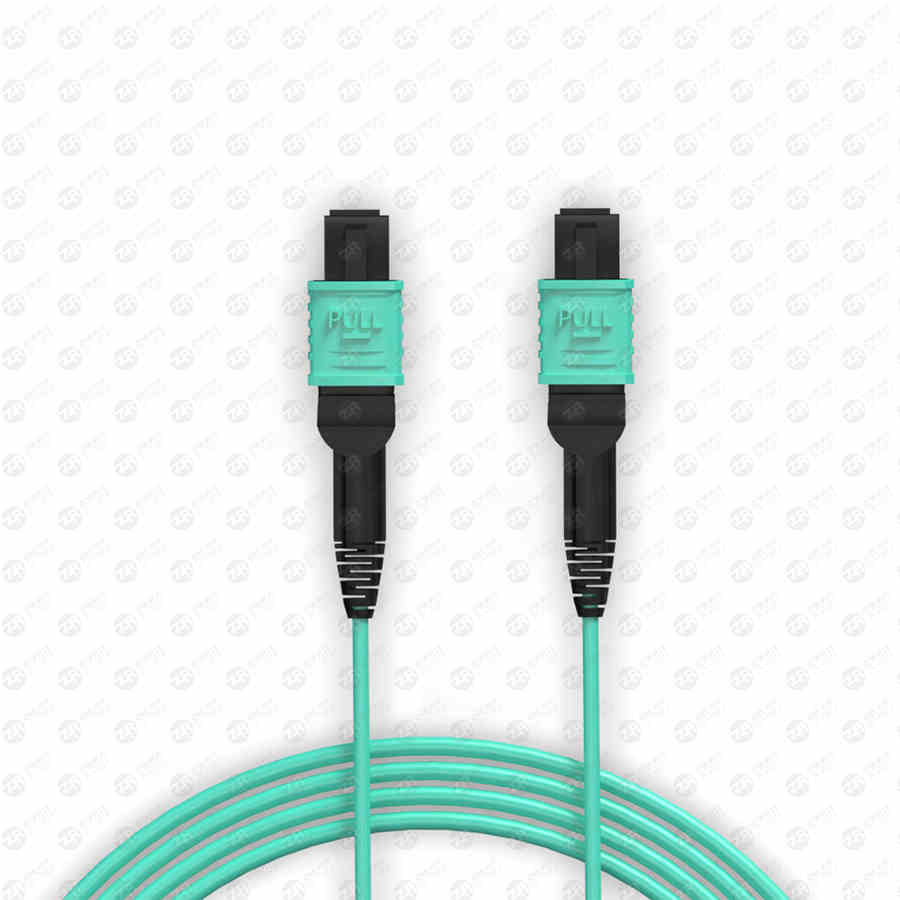 Going forward, 100G-SWDM4 duplex can use eight cores, aggregated into a parallel 400 GbE link. Note the fiber counts for common applications in Figure 1. Any of the multiple-pair applications shown can be branched, and migration between duplex and parallel fibers may occur, so it is expected that the configuration of the fiber cabling system should be able to accommodate these changes in the future.
One of the challenges of migrating to higher data rates is lack of space. To achieve higher densities, more network designers are turning to MPO connectors.
The duplex LC ports can be replaced with MPO ports as needed. If the fiber can be supported with a duplex pair, the MPO port can support up to 12 times as many links as the LC port. MPO connectors are available in 8, 12 or 24 conductor versions.
Choosing the Best Multimode Connector for Your Application
The 8-pin MPO connector was originally introduced to provide support for parallel signal applications using 8 of the 12-pin positions in the industry standard 12-pin MPO connector. This application typically occurs in QSFP transceivers for 40GBASE-SR4 or 100GBASE-SR4, where four fiber pairs can carry 10 or 25 GbE each to achieve 40 or 100 Gb/s channels. From an infrastructure perspective, 8-pin MPO connectors are best suited for 1:1 port connections in parallel applications. An 8-pin connector equals a parallel port.
There are other industry standard multi-pin connector options, such as 12-pin MPO or 24-pin MPO, which continue to gain popularity in the market. These higher core count MPOs provide higher architectural flexibility and repeater efficiency compared to 8-core applications. For example, by using two 12-fiber MPOs or one 24-fiber MPO for the backbone cable, you can support multiple duplexes, multiple parallels, or a combination of each without reconnecting the cables. This flexibility enables you to efficiently migrate applications as your network or business model evolves.
MPO-8 connectors and trunks are used in this application in a 1:1 ratio, MPO-12 trunks support this application in a 2:3 ratio, and MPO-24 trunks support this application in a 1:3 ratio.
In all MPO fiber systems, regardless of the number of cores in the connector, polarity or routing the transmitted signal to the correct receiver is critical. Although a variety of polar methods are available, method B is the recommended choice.
12-core (MPO-12) design
MPO-12 is a globally recognized standard interface for multimode and singlemode applications. It has been around for decades and is widely used as a backbone cable connector for both duplex and simplex applications. Because QSFP applications don't use all 12 cores as we discussed earlier. In order to maintain the efficient use of fiber optic trunk cables, the middle 4 cores are combined from two 12 core trunks to provide additional QSFP 8 core ports. All 24 cores in the MPO-12 backbone are fully utilized. This design allows switching back and forth between parallel and duplex applications.
24-pin (MPO-24) design
MPO-24 connectors are probably the most cost-effective way to deploy parallel and duplex fiber optic applications. By connecting 24 conductors in a single connector, it provides higher density than three MPO-8 connectors or two MPO-12 connectors, and speeds up cleaning and inspection times associated with installing MPO systems. The cross-connect of the MPO-24 backbone provides higher port density, reducing panel space requirements to 1/3 that of MPO-8 and 1/2 that of MPO-12. In high-density applications, the size of the backbone cable is also a consideration. A 144-conductor backbone cable using MPO-24 subunits occupies approximately 30% less area than an equivalent MPO-12. For QSFP applications, MPO-24 can support a 3x increase in panel density compared to MPO-8 ports.
The MPO-24 system also supports a wider range of parallel applications than the MPO-8 or MPO-12 systems. 100G SR-10 applications require ten pairs of multimode fibers in a 10x10G configuration. Some manufacturers have extended this application to provide 12x10G switch ports. The MPO-24 provides simple and straightforward support for these 100G or 120G applications, as shown in Figure 3.
Meet data center design needs
Data centers need to respond quickly to exploding bandwidth demands, and new networking capabilities such as data center applications, networking, and optical transceivers depend on the performance and adaptability of physical fiber infrastructure. The optimization of fiber infrastructure requires high-speed migration strategies to support emerging duplex and parallel fiber transmission applications that will see widespread adoption as economic advantages shift to newer technologies. Speed, flexibility and scalable capacity are key to network design.
MPO cabling systems are quick to deploy, flexible to configure, and scalable to optimal capacity. Manufactured with precision in the factory, it provides outstanding, reliable and repeatable application support for the most demanding network fibers. MPO systems provide new solutions for challenging data center design requirements.