Optimum deployment of copper and fiber
It goes without saying that it is the data center cabling that carries the computer network. There are also many out-of-band connections to consider, and while they are connected to the network and carry computational data, they are not inherently characteristic of the network. Auxiliary out-of-band connections may also be required to monitor power, temperature, humidity, air conditioning and uninterruptible power supply performance, as well as monitoring cameras, automatic server shutdowns, water leaks, and many other functions that are not always IP-based.
Unlike servers, storage and network switches, these auxiliary devices are usually low bandwidth and relatively non-critical. Does this mean that different types of network cabling can be used for different devices? This depends in part on the cabling topology, which actually determines the best deployment of copper and fiber.
But for copper cables, it is almost never cost effective to use different TIA (Telecommunications Industry Association) category cables for different systems. Homogeneous cables are quicker to install and all use the same termination hardware to ensure that the cables are suitable for all purposes. And because this installation uses the same patch cords, it is not possible to use low-level patching at the high-level connections.
Network Cable Type: The Ins and Outs of Optical Fiber
Fiber optics is another concept. There is a big difference between single mode fiber and multimode fiber. With the advent of practical Vertical Cavity Surface Emitting Lasers (VCSELs) in 1988, and later the development of Laser Optimized Multimode Fibers (LOMMFs), and the latest adoption of the OM4 fiber standard, high-speed fiber connections have become both economical and practical. , it is no longer necessary to go through single-mode fiber, especially for short-distance situations that are common in data centers.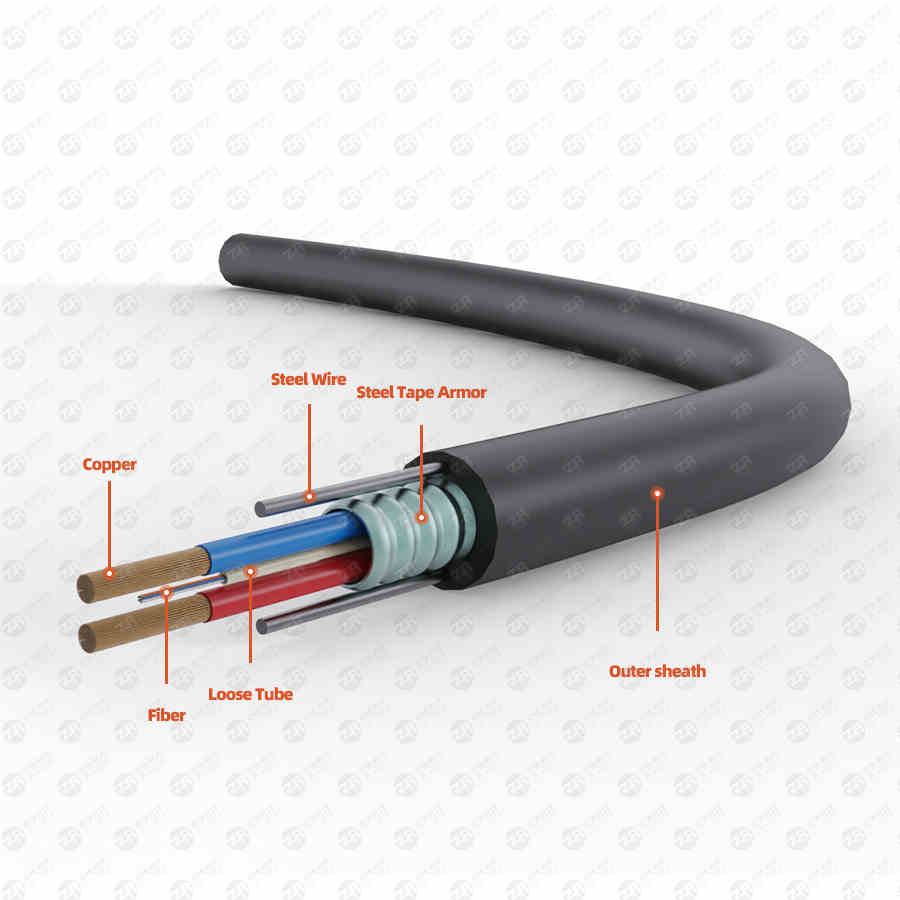 Currently, there is no indication that bandwidth requirements beyond what LOMMF and VCSELs can support are emerging within the data center. But while advanced multimode fiber can handle any requirement in a data center, we are always concerned that bandwidth requirements may exceed current capacity limits, especially for network backbones.
Therefore, it is generally considered that it is safer to install at least one single-mode fiber. After all, fiber optics aren't expensive; but interface electronics aren't. Many people believe that even if you never use this single-mode fiber, it's a cheap insurance policy that doesn't need to invest a fortune in electronics. However, it's still about the money. The more we move towards fiber infrastructure, the more spare fiber we need to deploy a certain percentage of single-mode fiber.
Single-mode fiber is primarily used to maintain long-distance bandwidth. Therefore, for the relatively short distances common in data centers, a direct plug-in optical attenuator or a roll of network cable long enough to keep the receiver from being surrounded by the high-power laser transmitter signal may be more desirable. Lasers consume more power, resulting in unnecessary energy consumption in large data centers. Laying single-mode fiber in the main channel path, or outside the data center for network connectivity, will help future management. But unless the price of interface electronics drops significantly, the cost of single-mode fiber will be high. Use single-mode fiber between data centers located in different buildings, or at two distant locations within the same building. Where high bandwidth servers and backbone connections are made, use advanced multimode fiber.
The importance of quality
Since we still need copper cables to connect many individual servers, only using the best copper cables for longevity will make sense. This doesn't just apply to network cables - patch panels, connectors, terminations and patch cords all have to be chosen with equal rigor. The installation must be verified by appropriate testing and the results must comply with the specified performance standards. There is no point in buying a premium network cable if the installation process is sloppy. Having chosen the best type of network cable, you should be asking for the best results, which means only using compatible patch cords to ensure that your investment won't be degraded. Surprisingly, using incompatible patch cables is a common mistake. Aging, inefficient patch cables are everywhere, just because they still work, but at the same time hinder the performance of expensive new hardware.
Another growing concern is the manufacturing process of copper cables and advanced optical fibers. Tolerance becomes very important, a small error can degrade performance, and the fiber optic connector density is so high that it is impossible to assemble these cables in the field, regardless of distance. From the standpoint of maintaining the quality of the cabling infrastructure and today's performance requirements, no one should make their own adapters.
Now there are more and more complete sets of cable assemblies that have been made in the factory according to fixed lengths, both copper and fiber optic network types. This ensures quality, makes it easy to add cables in the future, and also addresses concerns about underestimating the number of cables - it's easy to add any time you need to.
Whether using copper or fiber, data centers must be able to wire quickly and well. It shouldn't be affected by the type of cabling elsewhere in the building; data centers are special places that are expensive to build. Even if maximum performance is not required on day one, it is likely to be required during the lifetime of their device. This also explains why fiber is used more than copper in new data center designs; and why, regardless of whether copper or fiber, not adopting the best installation plan for saving money will be a bad economy. decision making. Updating wiring is expensive and potentially disruptive, so it needs to be avoided whenever possible.
Physical Design and Quantity
There are four main factors that pose challenges to today's data center cabling:
1. Multiple network connection requirements per server - some use copper, some use fiber
2. Higher port density requirements for network switches
3. Requirements of different manufacturers and protocols for storage topology
4. Changing cable standards to meet higher speed demands
Bottom-of-rack consolidation meets most of the needs, but there are two deficiencies—the need to determine in advance how many cables to install in each rack; and the size and price of the server access consolidation switch.
A standard rack can hold 42 1U servers, each with 3 or more connections. Cabinets can also have power and temperature monitors, as well as security combination locks. Should six 24-port patch panels be installed in each rack to support the maximum number of connections? Not necessarily, but there is no other way to accurately predict how many connections each rack will ultimately require. And what use each cabinet is used for and how to wire it are limited.
People usually choose a realistic "middle value", which often results in installing more cables than is actually required. While this scenario is expensive and difficult to justify, it is still cheaper than installing redundant chassis-type access switches in each rack row and reserving enough ports to match the number of cables. Virtualization and consolidation will even exacerbate server and cable density growth.
The top-of-cabinet integration solution is more flexible and economical than the bottom-of-rack solution because empty fiber optic boxes can be pre-positioned to access fiber when needed. Whether the existing equipment is an LT fiber connection, a local switch, or a Multi-Pull (MPO) pre-fab fiber connector, pre-fab fibers can be added quickly and easily without cluttering field installations or disrupting other single fibers. Since there are 12 cores in one connector, large capacity can be added quickly. Once the manufacturer understands the size requirements of the data center, the fiber length can be determined, and it is very convenient to add fiber.
At the end of the day, determining cabling methods and densities in a data center is always complex. Too little cabling to keep up with requirements has resulted in temporary cabling increases that will never be eliminated. Too much wiring and too much cost to evaluate. Modern means can simplify this problem, but still need to have ideas and plans. Flexibility is an important factor to consider when planning and designing a data center, which means that careful consideration must be given to cabling.